West Ipperwash Clean Up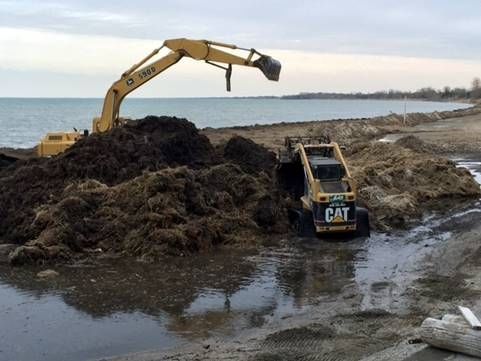 Working in co-management of the beach with Kettle & Stony Point (CKSP), the West Ipperwash Property Owners Association (WIPOA) is asking Lambton Shores for some financial aid to deal with unique storm damage.
When contacted by the Lakeshore Advance, Guy Riopelle president of WIPOA explained the area their association covers is all private properties from West Ipperwash Road to Center Road in Lambton Shores.
"Several weeks back a late winter storm brought in an enormous amount of debris and black material. Although this is not uncommon in our area the shear volume is over whelming and unprecedented. In discussions with residents who have lived here for decades, many have said this is the worst it has ever been," he said. All area beaches were victimized from this storm, but Ipperwash got the brunt of the winter force.
Riopelle explained that in the past few years there has been little needed to prepare for the summer, other than working with Kettle Point, who regularly do some grading and removal of some minor debris.
"This year's situation is completely out of the norm and we are left with having to bring in large equipment and have the debris hauled away. Some have suggested controlled burns, one challenge is with such little beach area it would be too close to cottages and would require perfect winds from the South. I'm not comfortable advising home owners to start large fires.
He said, "Back in the 80's this same situation happened and it took the entire summer for mother nature to take it away. Some have suggested we wait in hopes this happens, one major concern is the health effect of the black muck composting and of course zero usage of the beach by anyone."
To this point, Kettle & Stony Point has been working from Center Road east to the stone reef with success, says Riopelle. "As well they have hauled away some debris from West Ipperwash Rd heading West towards the stone reef."
WIPOA organized several "clean up days" where our members came out with bob cats and other equipment to start piling up the debris. Last week WIPOA paid a local company under contract to come out and pile up the debris with hopes that if the black material was of a decent quality he would take it back to his sod farm at no charge. Turns out the properties of the black material were not the same as they are during the summer, it was mixed up with too much debris leaving it useless.
The challenges this association is dealing with begins with where to relocate the debris.
"Working with CKSP, we have a location and will need their help spreading it on the land after it is dumped. How do we get it there? CKSP and WIPOA just don't have the time, equipment or man power to solve this on our own. We can have the local contractor come back with all required equipment to relocate the debris but he feels it will take two full days at an additional cost.  in addition to the all the time and monies already spend. WIPOA and CKSP are discussing options including additional donations but tapping out all resources leaves a balance of $2,000 and this is the amount we are looking from Lambton Shores to contribute.
"Yes," Riopelle said, "We realize this is considered private property by Lambton Shores, however we have a unique situation here. Not too many "private properties" are promoted or encourage to be used by the general public. This is not someone's front lawn we are asking you to help with, this is a piece of land that has been used by the public for decades and has never been treated as "private" ever.
It's even promoted on the Lambton Shores Website.
http://www.lambtonshores.ca/en/things-to-do/ipperwash-beach.asp
Lambton Shores has in the past helped private residents after unprecedented situations i.e. the tornado of Summer 2014.
Having the beach ready and in good shape for summer is good for the community, good for tourism and we feel good for Lambton Shores.
We are not looking for Lambton Shores to bail us out, as well we are not looking for a hand out. We feel WIPOA, Kettle Point and Lambton Shores all have a responsibly in unprecedented situations such as the current one to step up and do their part.
This association president quoted a member stating, "By owning Lake Huron beach property, we have assumed responsibility for caring for it. If we do not practice good stewardship of the land, we cannot expect anyone else to do it for us."
"WIPOA and Kettle Point have worked together over the last number of year to take care of the beach and more importantly to build a strong working relationship that is based on mutual respect and communication.
"WIPOA has done all it can, Kettle Point has done all it can. We feel we have a good plan that requires Lambton Shores to help during this unique unprecedented situation."
Riopelle has reached out to ward councillor Gerry Rupke to ask that this be considered an emergent issue at this week's regular council meeting. He is hoping council will discuss the issue at that time.
Source: West Ipperwash home owners dealing with unique storm damage | Lakeshore Advance