International recognition of Camp Attawandaron
Camp Attawandaron wins international recognition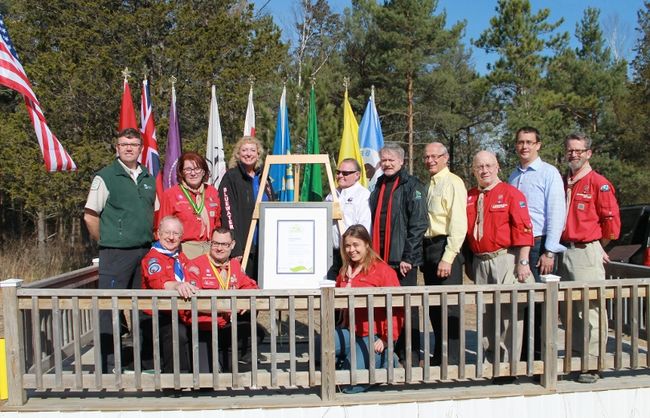 Dignitaries, camp officials and over 700 Scouts from both Canada and the United States spent a bright, sunny Saturday morning celebrating a significant achievement at Lambton Shores' Camp Attawandaron.
Participants at the camp's 32nd annual Can-Am Camporee gathered at the campground's flats area early Saturday, Apr. 30 to witness the official recognition of the camp as a Scout Centre of Excellence for Nature and Environment (SCENES) by the World Organization of the Scout Movement (WOSM), a designation that has only been given to 21 other camps around the world.
SCENES centres are recognized for their innovative environmental practices as well as their forward-thinking, hands-on education programs for youth involved in the scouting movement. Only a handful of sites in countries as diverse as Australia, Austria, South Africa and Nepal have met the stringent criteria set out by the international scouting movement to achieve such a designation, with Camp Attawandaron becoming only the third Canadian camp accredited since the program was developed in the 1990s.
Camp Attawandaron, located adjacent to Pinery Provincial Park, is a 190 acre Oak Savannah forest with sand dune geology, containing a significant number of species at risk. Members of local Beaver, Cub and Scout troops as well as numerous volunteers have worked tirelessly over the past number of years to preserve and protect the rarefied habitat while making it an enjoyable and engaging place for youth to learn about their natural environment, said Camp Attawandaron SCENES chair and Scout Leader Rob Tuer.
"The whole process has taken about five years. We had to compile about a 150-page document that went through all the different channels and finally to Geneva, Switzerland (headquarters for the WOSM) for the final approval," Tuer said. "The criteria dealt with a number of different standards and questions – what we're doing, how we're educating youth as well as outlining the programming we're providing for youth, which is key to the whole thing."
Scouts from across southwestern Ontario and Michigan have always known about the camp's superlative natural features, Tuer said, but the international recognition was a truly pleasant surprise.
"One of the things is that we always knew that this place was a very special place. And we wanted to make sure that it was recognized," he said. "We never thought on a global scale, but we at least wanted to make sure that it was recognized throughout southwestern Ontario and maybe throughout the province. But for it to be recognized all the way around the world makes it even more special."
With Scouts, Girl Guides and Cubs from locales such as Memphis, Michigan, Paris, Ontario and Aamjiwnaang First Nation looking on, Tuer, long-time local Scouting leaders Malcolm Boyd and Mark Hornblower and an assemblage of dignitaries unveiled the framed letter which officially designated Attawandaron as a SCENES centre.
For Tuer, the fact that the camp has received international plaudits is simply a testament to the hard work of all the volunteers who helped preserve the camp, a camp he has been coming to for nearly 30 years.
"I started here when I was five years old and now I'm 34," he said after the ceremony. "Most of my weekends are spent here at the camp. It's such a beautiful place, it really is a gem. I'm just absolutely thrilled that it's finally been recognized."
Source: Camp Attawandaron wins international recognition | Sarnia and Lambton County This Week