Plastic pollution a growing problem in Great Lakes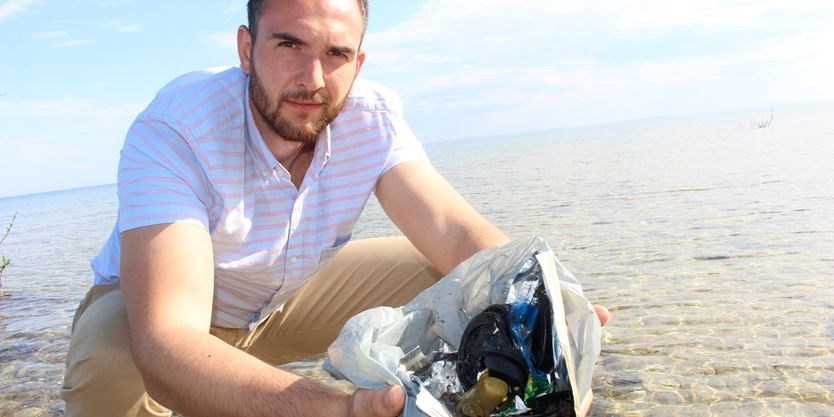 Every year, about 40 dump trucks worth of plastic ends up in Lake Huron.
It comes in through wastewater treatment plants and run-off; microbeads from personal care products, fibres from synthetic clothing, and trash washed into rivers and streams.
Former Toronto Brigantine program manager Kezia Weed was aboard last August when the crew took part in a one-day Great Lakes-wide microplastics sampling project, trawling the water just off Collingwood.
Weed said she was surprised the group's trawling picked up evidence of plastic pollution.
Microplastics, plastic particles smaller than five millimetres, come from a variety of sources, including cosmetics, clothing, and industrial processes. Microbeads, a type of microplastics, can be found in toothpaste, body scrubs, and soaps.
But while governments on both sides of the border have enacted legislation to phase out the sale, manufacture and distribution of microbeads by 2018, that still makes up only a small portion of the plastic ending up in the Great Lakes.
"When you think about the different things you use every day, so much of it is plastic, and so much of it is single-use plastic," said Rhiannon Moore, a coastal outreach specialist with the Lake Huron Centre for Coastal Conservation. "Eventually all those things amount to a whole bunch of plastic that you use yourself, and when you think about all the people around the lake, that really adds up."
A 2014 study found an average of 43,000 microplastic particles per square kilometre in the Great Lakes; the average jumped up to more the 466,000 close to urban centres. Another 2014 study of nearshore areas in lakes Erie and Ontario found 6.7 million pieces per square kilometre.
Last year, the Rochester Institute of Technology estimated about 10,000 metric tons of plastic ends up in the lakes on an annual basis, 600 metric tons into Lake Huron alone.
"We wash millions of minuscule bits of plastic down the drain every day," said Georgian Bay Forever executive director David Sweetnam. "While catching some, many water treatment plants simply are not equipped to catch all these microplastics."
Unlike the oceans, where the plastic accumulates in giant gyres, plastics in the Great Lakes are caught by wind and currents and washed up onshore. Larger pieces of plastic break down into smaller particles over time, and are ingested by marine life. While some plastics will pass through an organism, others — such as synthetic fibres — tend to get lodged in intestines.
Plastics also contain a variety of toxic or endocrine-disrupting chemicals, and act as sponges for chemical contaminants in the surrounding water.
Earlier this year, the International Joint Commission, a binational body responsible for shared waterways, including the Great Lakes, called on governments on both sides of the border for "essential action" on plastic pollution.
The IJC released recommendations to create a binational plan that develops policy, research and education to monitor and measure microplastics within the Great Lakes basin on an ongoing basis.
While microbeads are being eliminated, Sweetnam said consumers should check what's at home for products that may contain polyethylene.
Weed said taking part in the one-day sampling study drove home the issue to crew members.
"It's one thing to talk about it, it's another thing to see it and watch these collections take place … and have that conversation about the use of plastics," Weed said.
Moore said consumers can opt for products with less packaging; she went "plastic-free" in January, just to see if it could be done.
"It is possible; plastic is a very useful material and I don't think it should be banned altogether. But the way we are using it is pretty irresponsible," she said. "Even simple things that people can do, reusing a lot of things, would make a big difference."
Source: Plastic pollution a growing problem in Great Lakes | Simcoe.com