Decision makers have an obligation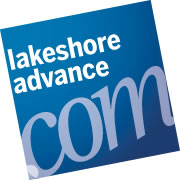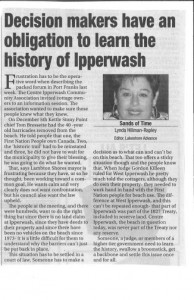 Decision makers have an obligation to learn the history of lpperwash
Frustration has to be the operative word when describing the packed forum in Port Franks last week. The Centre Ipperwash Community Association invited cottage owners to an information session. The association wanted to make sure these . people knew what they knew. On December 5th Kettle Stony Point chief Tom Bressette had the 40 -year old barricades removed from the beach. He told people that one, the First Nation People own Canada. Two, the 'historic trail' had to be reinstated and three, he did not have to wait for the municipality to give their blessing, he was going to do what he wanted. That, says Lambton Shores mayor is frustrating because they have, or so he thought, been working toward a common goal. He wants calm and very clearly does not want confrontation, but his council also want the law upheld.
The people at the meeting, and there were hundreds, want to do the right thing but since there is no land claim at Ipperwash, since they have deeds to their property and since there have been no vehicles on the beach since 1973- it is a little difficult for 'them to understand why the barriers can't just be put back in place.
This situation has to be settled in a court of law. Someone has to make a decision as to what can and can't be on this beach. That too offers a sticky situation though and the people know that. When Judge Gordon Killeen ruled for West Ipperwash he pretty much told the cottagers, although they do own their property- they needed to work hand in hand with the First Nation people for beach use. The difference at West Ipperwash, and this can't be repeated enough- that part of Ipperwash was part of the 1827 Treaty, included in reserve land. Centre Ipperwash, the beach in question today, was never part of the Treaty nor any reserve.
Someone, a judge, or members of a higher tier government need to learn the history, swallow a broomstick, get a backbone and settle this issue once and for all.