A line in the sand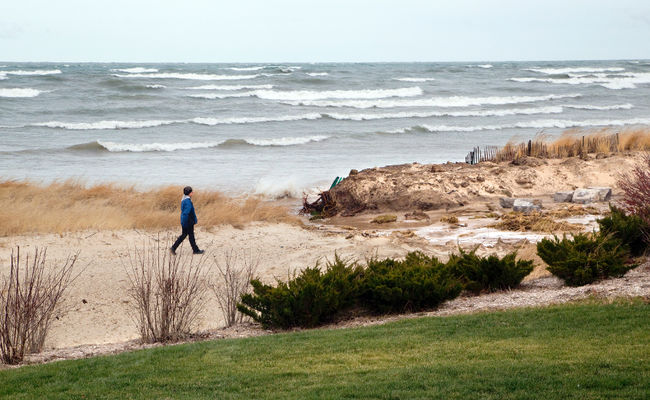 IPPERWASH STANDOFF: Friends become foes as Chippewas of Kettle & Stony Point turn Ipperwash beach into a shortcut between their communities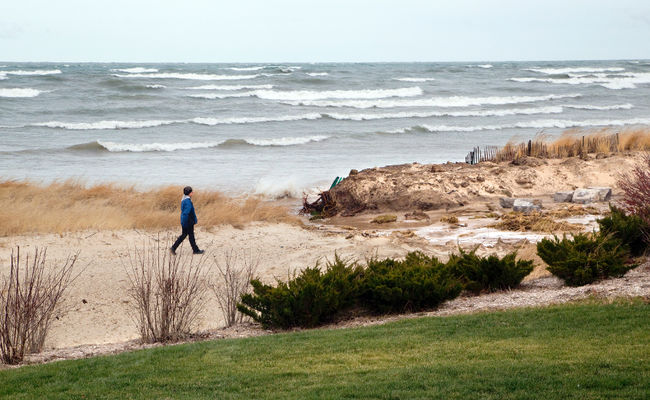 IPPERWASH – When members of a local First Nations band occupied an army base here 20 years ago, demanding it be returned, white homeowner Mark Lindsay stood behind them. It was their rightful property, he says.
Giving it back was overdue long before some natives moved into the former Ipperwash Provincial Park nearby, he argues. That occupation ended in a violent clash with OPP in 1995, in which Dudley George, an unarmed native protester, was shot dead by police.
But when members of the same band recently tore down a vehicle barrier on a nearby Lake Huron beach, claiming historic rights over the strip of shoreline in front of his family home, Lindsay drew a line in the sand.
That, Linsday says, he can't support. Worried for the safety of children playing on the beach and the environment, hesaid he took a "calculated risk" by putting up a makeshift barrier this week to stop a plan by the Chippewas of Kettle & Stony Point to open the beach to vehicles for travel between the communities.
"These, of all peoples, are the ones that usually are standing for the right things," he said.
"They are standing for the environment — fighting against pipelines, fighting against pollution. This is ludicrous. It's such a twist on things. It's happened in the same place (where) we have had major problems before," said Lindsay, 47, who's lived in the same house his whole life.
"The poor people of Ipperwash are left twisting in the wind 20 years later," he said.
That, from a man who considers himself a friend and supporter of his Chippewas neighbours, may be the clearest signal the latest flashpoint in native and non-native relations in the area — which was thrust under a national spotlight a generation ago — is no tempest in a tea cup, but a smouldering issue some fear could yet catch fire.
Suddenly, old tensions and fears are bubbling back to the surface. Talk of "rebuilding" and "trust" has been replaced by phrases like "two sets of laws."
White property owners, outraged over the thought of vehicles on their shoreline, threaten to boycott native businesses.
Racist comments, spewing hate and anger toward First Nations, have filled online comment sections of news sites since the story.
Coincidence or not, the recent slashing of a tire on a bus carrying Kettle & Stony Point school children to a nearby town for a field trip has also left some with a sense of dread.
"It's such a hot-button issue that at some point someone is going to lose their cool," said Monica Virtue, a Toronto graduate student who's followed the Ipperwash story since George's death.
"I worry it could escalate. Those tensions are very long-simmering. It's been 20 years since Dudley was killed and things have started to calm down. But no matter how much time goes by, (the tension is there) because those issues with the land are unresolved."
It's been a long and painful process since the Ipperwash standoff that divided the mostly white cottagers and the First Nations band after decades living together.
There's been healing in the two decades since, area residents say.
There are good relationships, friendships and business agreements. Non-natives frequent the native-run shops, along with their aboriginal customers.
But the band council says it was left twisting in the wind, all along.
It maintains it has long wanted to take down the beach barrier, which the province put up in 1973, that prevents vehicles driving on the two-km strip of beach between Kettle Point and Stony Point. The barrier went up without band consultation, it says.
The band was only exercising its jurisdiction over the land
Dec. 3 when it reopened the beach between the two communities, band chief Tom Bressette argues. The band maintains the link is an "historical trail."
But some critics believe the surprise move was deliberately provocative.
"There are a lot of people worried," said Monte McNaughton, the area's MPP. He arranged a meeting Friday between the province, Lambton Shores — the area municipality — and the band council, in a bid to cool temperatures. "It came as a surprise to everyone" how fast the issue blew up, said the Lambton-Kent-Middlesex MPP. "There was absolutely no warning from the First Nations about this."
Of Friday's meeting, Lambton Shores Mayor Bill Weber said "Everybody was glad that we were there and we were talking," and that another meeting would be held "just before Christmas."
Weber has said the band first expressed interest in taking the barricade down at a town council meeting a year ago in July.
The barricade removal outraged property owners, who disagree the band has rightful control over the land, insist their property extends to water's edge and say the beach has always been open to the public — just not vehicles.
They say Bressette was intentionally confrontational taking matters into his own hands.
Some band members say they had no idea the barricade was a problem, or that it would be taken down.
— — —
OTHER REACTION
"I've had calls from landowners . . . There's always concerns when things like that happen up at Ipperwash. We don't want to repeat what happened a number of years ago." — Bev Shipley, the riding's Conservative MP
"We have to settle these issues once and for all. It appears as though there is special treatment being given (to the First Nation). I think (tearing down the barricades) is not the right way to do things. The correct way is in the courts." — Bob Sharen, a former Grand Bend mayor
"I would ask that everyone be respectful as this process of understanding and clarifying property issues related to the usage of the beach unfolds." — Lambton Shores Mayor Bill Weber, after a meeting Friday with provincial and band officials.
With files by Tyler Kula, Sarnia Observer