Storm of July 2014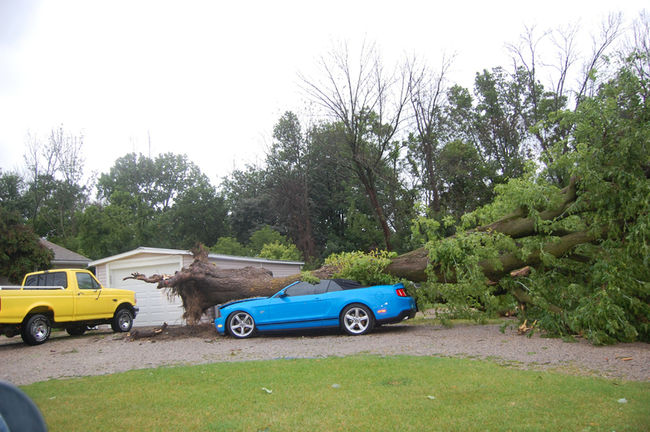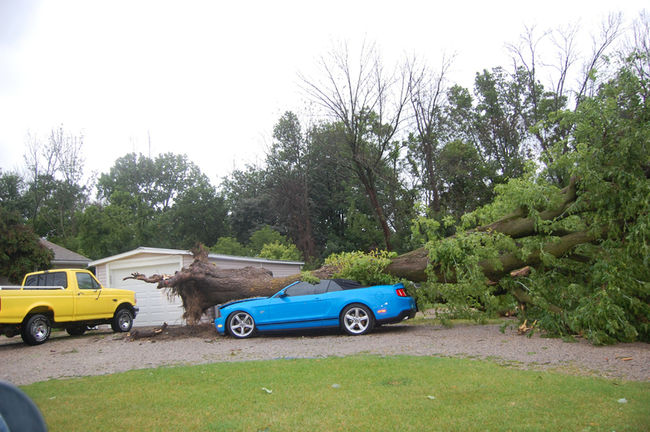 July 2014 storm knocked down as many as 10,000 trees in Lambton Shores
Nearly a year after a tornado ripped through Lambton Shores, trees toppled by the 155 to 175-km/h winds can still be seen in the heavily-wooded section of Lake Huron shoreline that sits between Pinery Park and Grand Bend.
That's where the storm came ashore on Sunday, July 27, knocking down an estimated 8,000 to 10,000 trees, causing damage to homes and vehicles, blocking roads with debris and leaving residents without power because of down power lines and poles.
In the days that followed, municipal and electricity crews worked long hours clearing downed trees and limbs off roadways, and bring electricity back to residents.
Mayor Bill Weber said reminders of the storm can still be found in the shoreline neighbourhoods south of Grand Bend that were hardest hit by the storm.
"There's still some leaning trees, and there's still some of the vacant lots that haven't been cleaned up," he said.
"There's evidence that the tornado went through."
Weber said chainsaws and stump grinders aren't running in the neighbourhoods as steadily as they were in the weeks following the storm, but are still heard from time-to-time.
There are already signs of recovery, with many young trees planted by property owners to replace those lost in the storm.
Weber noted a 5,000 Tree Project of the Grand Bend Community Foundation, Ausable Bayfield Conservation Authority and Rotary Club that has been helping with that effort.
"There has been a lot of replanting by a lot of homeowners," Weber said.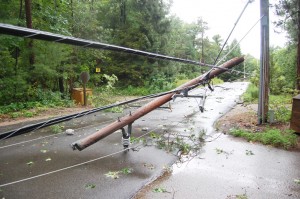 Trees and power lines came down near Grand Bend as a severe storm moved through Lambton Shores on July 27, 2014. Damage to a power line is shown in this file photo taken right after the storm. While much of the cleanup has been carried out, some signs of the storm still remain in the community. (File photo/ Postmedia Network)
Work is still being carried out to clear some trails blocked by leaning trees, as well as roadways damaged when trees alongside them lifted asphalt as they were blown over, Weber said.
Weber said he hasn't seen an estimate of the total cost to private property caused by the storm, but the municipality calculated its costs at $900,000.
Late in 2014, Lambton Shores received word the Ontario Disaster Relief Assistance Program would provide up to $720,000 to help pay for debris cleanup and repairs to services, such as roads.
Weber said the municipality is still in the process of submitting bills to that program.
In the days following the storm, the municipality designated an area at the Klondyke Sports Park as a temporary drop-off site for brush and trees residents cleared from their properties.
A few acres there ended up piled high with branches and trees.
"That was cleaned up early in the spring," Weber said.
"That was a real reminder of how much damage has been done."
Remarkably, only one person was reported to be injured during the tornado.
"It could have been so much worse," Weber said.
A 38-year-old women visiting from Toronto suffered a broken pelvis and other injuries when a tree fell on her in Pinery Park.
Memories of the storm haven't faded for residents, and the experience has increased awareness of the potential danger from severe weather, according to Weber.
"I have heard from people, when there is a thunderstorm watch now, who take it much more seriously," he said.
"You always think, 'This doesn't happen to us,' or, 'It can't happen here,' but it can."
via the Observer | July 2014 storm knocked down as many as 10,000 trees in Lambton Shores