Some 20 to 30 cm of snow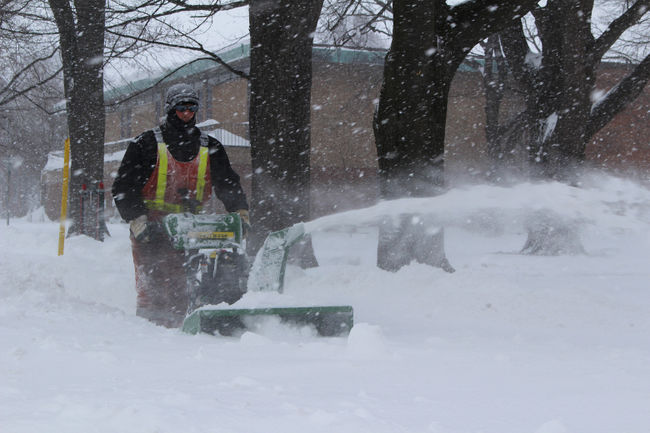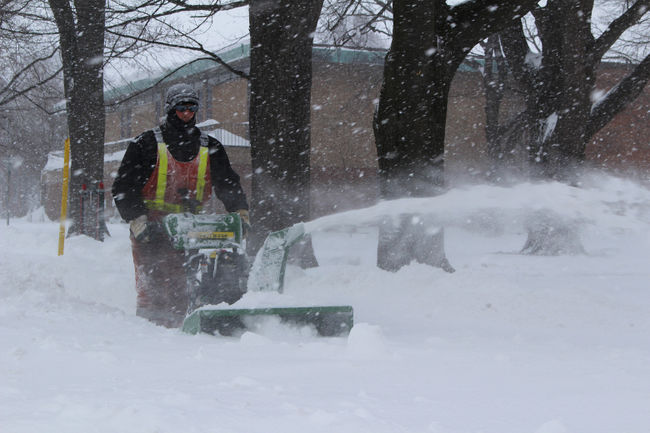 Some 20 to 30 cm of snow estimated to have fallen
A flurry of closings followed the winter storm that buried Sarnia-Lambton late Sunday and early Monday in snow.
Geoff Coulson, with Environment Canada, said Monday that early estimates were that 20 to 30 cm of snow fell across Sarnia and the northern parts of Lambton County.
"It was a Colorado low that moved through," Coulson said.
"Even through the worst is over for Sarnia, we're still getting some lake effect activities that is going to give a few centimetres of snow, but the system has moved off."
Twitter was filled in the early morning Monday with cancellation notices, including school buses and classes at Lambton College. Lambton Mall announced it wasn't opening until noon, because of the snow.
A community consultation meeting about the old Sarnia General Hospital site that had been set for Monday evening was cancelled, and rescheduled for Feb. 10, at a location still to be determined, the city's planning office said.
Later in the morning Monday, Lambton Public Health issued a cold weather alert for Sarnia-Lambton, based on Environment Canada's forecast that temperatures were expected to drop to -16 C Monday night.
The public health office said, in a press release, that its fourth alert of the winter was expected to remain in place throughout the week, and it urged residents to take precautions, including dressing in layers, shielding exposed areas of the skin from wind, and limiting the amount of time spent outdoors.
Sarnia Police reported a man was charged with impaired driving after a vehicle hit the back of a snow plow just before 1 a.m. Monday on Confederation Street.
Early in the morning, Sarnia Police posted a message on Twitter asking city residents not to drive, unless it was absolutely necessary.
Bryan Prouse, the city's operations manager, said snow plows were out through the night Sunday, and continued working Monday to unclog city streets.
Main routes in the city were passable later in the morning, and city plows and contractors were expected to get to work on side streets.
"We're getting a lot of requests to service the side streets and we are, indeed, hoping to start that this afternoon, and get it done in a timely manner," Prouse said.
All of the city's sidewalk plows were also at work Monday.
"All of our resources are in-service," Prouse said.
"Our guys have been working around the clock."
Garbage collection in the city was expected to continue through the snow, but the city was warning residents that recycling pickup was expected to be a day behind schedule this week, Prouse said.
"The garbage trucks are much heavier than the recycling trucks, so they're able to stop, do their thing and go ago," he said.
"The recycling trucks are having lots of problems."
Residents are being asked to put their recycling out on their normal day this week, but warned it may take an extra day for it to be picked up, Prouse said.
"Hopefully, by the end of the week we're caught up again."
A storm warning that had been in place Sunday for Sarnia-Lambton ended Monday morning, but Environment Canada was forecasting more flurries.
Coulson said the weather system was moving east, where it was expected to impact other parts of the country, and was one of the first large storms of the winter for Sarnia-Lambton.
"There has been some lake effect events here, and there, but this one
was one of the really more major systems that didn't end up giving us a miss," Coulson said.
"We're seen a few of these larger ones stay well south, have impacts in Illinois, Indiana, Ohio, but this one did track a little bit further north and we are definitely seeing impacts across southwestern and south central Ontario."
The Ontario Early Years Centre at Lambton College closed for the day, the town hall and Victoria Playhouse Petrolia box office announced they were staying closed until noon Monday.
Lambton County closed its administration building in Wyoming, the Lambton Shared Services Centre at the Bayside Centre in downtown Sarnia, all of the county library branches, the county museums in Oil Springs and Lambton Shores, as well as the county archives and library system headquarters in Wyoming.
All of the Lambton Kent District School Board schools, and its office, were closed.
Lambton Elderly Outreach cancelled Monday's Meals on Wheels deliveries, and said the weather was impacting its other services.