Lambton Shores Farmer Honoured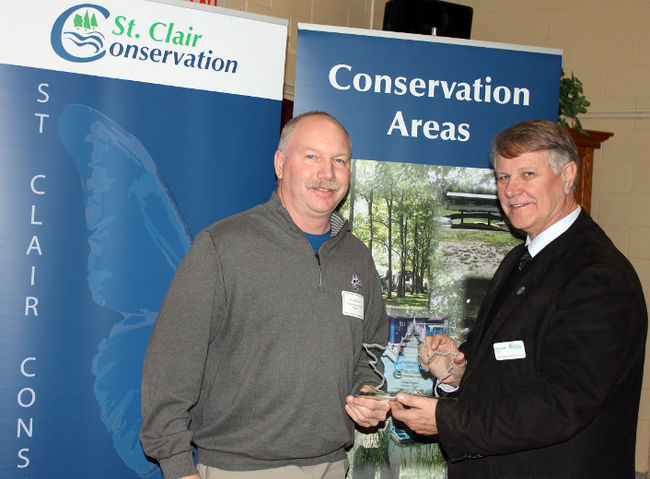 St. Clair Region Conservation Authority holds annual meeting in Strathroy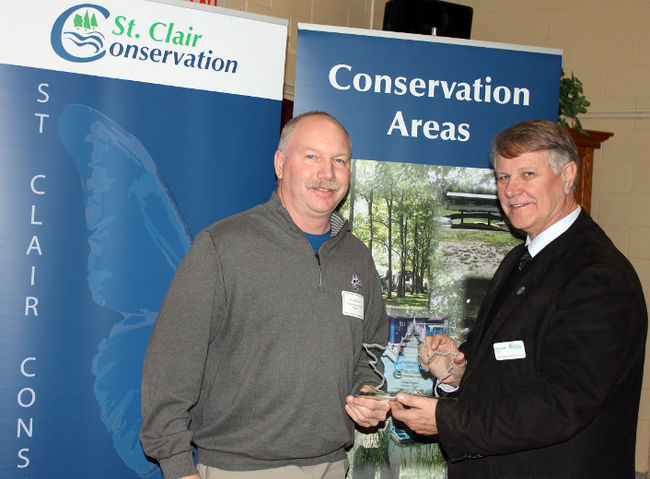 Three Lambton County residents were formally recognized for their stewardship efforts by the St. Clair Region Conservation Authority on Thursday.
John and Mary-Ellen King, who live in Warwick Township, own approximately 1,100 acres and were cited as excellent stewards of their property.
The Kings have completed several environmental projects, working with the conservation authority, Ducks Unlimited and the Rural Lambton Stewardship Network.
Since 2005 the couple has retired a total of 47 hectares of marginal or fragile lands, developing buffers along watercourses, shelter belts and tallgrass prairie.
They have also diverted tile outlets into a series of wetlands to filter runoff from their farm, and have established sediment traps and grass waterways to protect against erosion on steep slopes.
Doug Rogers of Lambton Shores was recognized as a leader within the farming community, using stewardship methods to protect the environment. He uses grassed waterways to slow down and filter runoff and has planted multi-species cover crops.
Rogers has also worked with conservation authority staff to promote conservation by being host to tours of his property and acting as a spokesperson for soil conservation.
For the past two years Rogers has collected water samples from his tile outlets because of a concern over phosphorus levels in the Great Lakes.
Along with the three Lambton residents, the conservation authority also recognized the Strathroy Community Christian School and the Enviro-Friends of Coldstream, both in Middlesex Township.
Thursday's annual general meeting was held in Strathroy, where St. Clair Township mayor Steve Arnold was returned as chair of the conservation authority. Andy Bruziewicz, representing the City of Sarnia, was elected vice-chair.
The board voted at an earlier meeting to accept the 2016 budget of $5,189,355.
The general levy, which is the part of budget funded by municipalities, was $701,455 or about 12 per cent of the total budget for the conservation authority.
Highlights for 2015 include:
$180,000 in grants distributed to landowners who undertook stewardship projects
54,000 trees planted (3.5 million planted since 1980)
200,000 visitors to conservation lands
40 kilometres of trails maintained for public use at local conservation areas
12,000 students experienced Outdoor Education Programs
34 stream sites sampled to monitor water quality (biology and chemistry)
40 different fish species identified in nine sub-watersheds in the region
$132,000 in water and erosion control infrastructure grants to help support flood control initiatives
Completion of Lambton Area Water Supply System and Cathcart Park Shoreline protection projects.