Ipperwash still doesn't feel like home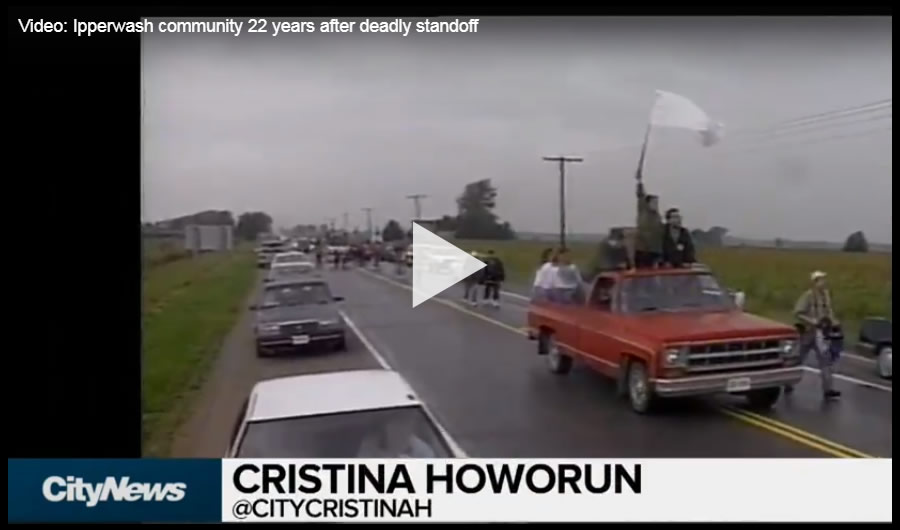 22 years after fatal shooting of Dudley George, Ipperwash still doesn't feel like home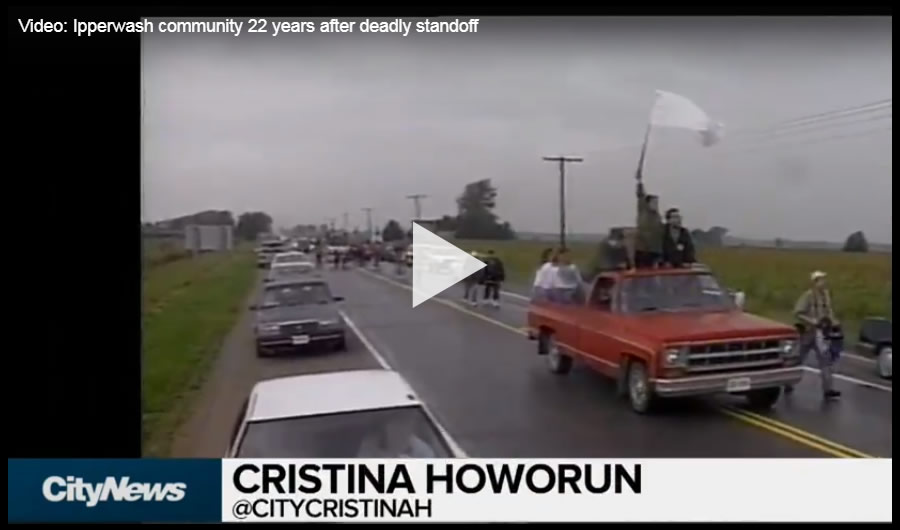 "This isn't my home. It's a military building, I call it the 'building.'" Mike Cloud says. "But one day, I hope it really will be a home – a real house," he adds about the expansive but dilapidated army bunker he lives in at in Camp Ipperwash.
Twenty-two years after the tragic and fatal shooting of unarmed, Indigenous protestor Dudley George, there have been only a few changes at the former army camp. A handful of buildings have been torn down and some additions have been added, but the secure front gate still keeps trespassers away, and barbed wire lines much of the fences. It looks like a war zone — or at least, a former war zone.
"There's no way in hell I'd let my little girl wash in my building, I don't trust the water," Cloud says, showing the new water pump house that pushes clean water through 75 year old pipes. "We live in a constant boil water advisory."
Instead, Cloud's eight-month-old daughter, Maryom, lives nine kilometers away, at Kettle Point, with Cloud's girlfriend.
"It isn't safe here," he adds. "I'm not having her get sick because of what's going on here, I'm already done for. I've been here too long."
Cloud is one of about 50 Chippewas of Kettle and Stony Point that live on the former camp. Most members live on the Kettle Point portion of the reserve, on the south shores of Lake Huron. Cloud has been here since 1993 — part of the first group of protestors that reclaimed the land. He took CityNews for an exclusive tour of the lands that are barred from public access.
There are a few dozen homes on the camp — former officers' quarters, mess halls, barracks, equipment storage shacks. Built for the Canadian Armed Forces in the 1940's, they're in varying stages of decay: chipped paint, missing windows, many without heating.
"Its not acceptable for us and we told them, it's not acceptable for them," explains Chief Tom Bressette. "We offered them different accommodations, they say 'we're not leaving, we're never going to leave.' Because if they leave, they'll come back again. And we're not leaving to let them come back again. We're not going to let them do that."
"Them" is the federal government and their fears aren't unwarranted.
The land that was once considered Stony Point was seized by the federal government in 1942 under the War Measures Act. Used as a training camp, and some say, POW camp for German soldiers, the people of Stony Point were forcibly removed from their homes. They were paid $15 per acre and relocated to Kettle Point.
Carole Pelletier was born on Stony Point. She remembers the fear the military inspired in her as a young girl.
"When my brother and I were little kids my (grandmother) told us 'if you see an airplane or if you see a boat coming in from the Lake, you run, and it doesn't matter what you see or what you hear, do not come out.' She said 'they will kill you,'" Pelletier explains from her Kettle Point home. "You know, I still have nightmares about the water and the ships coming in."
It seems most people here have families who fought to keep their land from the beginning. "My great grandmother was the last lady here to be forced out of her home. They were bulldozing her home down with her still in it," Cloud says. "They called her crazy because she wouldn't leave her home, but why should she? She didn't do nothing wrong."
At the end of World War II, the Chippewas of Kettle and Stony Point (CKSPFN) started asking for their land back. Their requests were either refused or ignored — and so many indigenous people ignored the "no trespassing" signs that surrounded their former home.
"When I was a kid, my mom and dad would bring me and my brothers to this lake," Cloud says showing a pristine inland lake off limits to most. "My mom would bring fried bread and bologna and we would come and fish here. Then the military would come and tell us we were trespassing. That's when our dad started educating us really young. He would say 'you're not the trespassers, they are the ones trespassing, and don't forget it.'"
He never has. Cloud was one of the first to reoccupy the lands in 1993. He says he was only 10 feet away when his friend Dudley George was shot and killed. "He should've been charged with murder," Cloud says of former OPP officer Kenneth Deane.
In 1997, Deane was charged and convicted of criminal negligence causing death.
Days after George's death the federal government agreed to start negotiations with the CKSPFN to return the land. A deal wasn't reached until 2016 — 21 years after George's death. Since then, the federal government has removed about 2,300 tonnes of contaminated soil and cleared about four percent of the land of explosive devices.
"The clearance and remediation of the Stony Point lands is currently estimated to take approximately 15-20 years to complete," Evan Koronewski, a Department of National Defence spokesperson told CityNews.
"Decommissioning the former Camp Ipperwash site is a complex undertaking that requires specific attention to a number of sensitive areas such as dunes, wetlands, and sites of cultural significance as well as the conservation of many species at risk. The navigation and management of sensitive areas, particularly those of cultural importance, have a significant impact on the overall decommissioning schedule," he explains.
Pelletier says none of this would even be happening if it wasn't for people like George and Cloud. "I don't see anything different, but if the people didn't move into Stony Point when they did, the army would still be there."
And for many, it still is — in the signs that adorn the buildings, in the rubble of memorials, in the belief that they'll return, if the people don't stay.
"My entire life has been to get our land back, since I was a kid," explains Cloud. "I'm not going to give it up."
Source: 22 years after fatal shooting of Dudley George, Ipperwash still doesn't feel like home | CityNews.ca