Historic Ipperwash settlement signed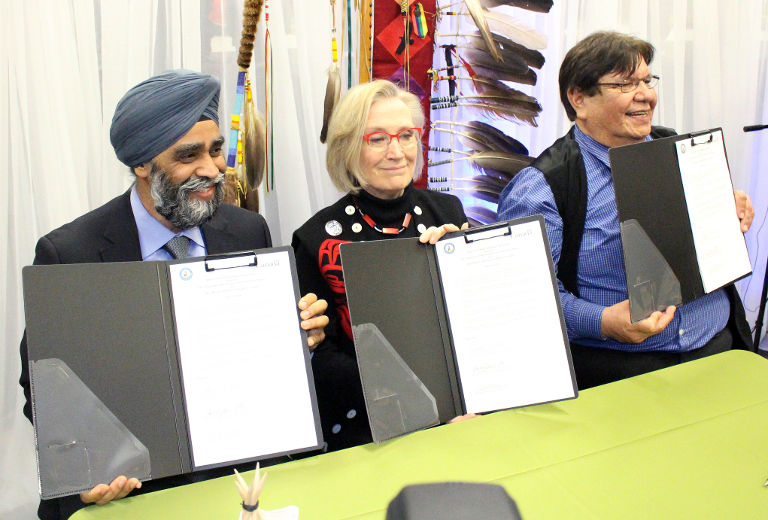 Feds' 1942 land expropriation dispute resolved with land's return and $95-million payment to Chippewas of Kettle and Stony Point First Nation
"It took 74 years, but the land is back."
The land is back, as Assembly of First Nations national chief Perry Bellegarde pointed out Thursday, because two federal ministers and the chief of the Chippewas of Kettle and Stony Point First Nation all signed the final Ipperwash settlement.
By putting pen to paper, the trio formally ended a dispute that started in 1942 when the Canadian government expropriated Stony Point land and 16 families were relocated to nearby Kettle Point.
Although the feds initially promised to return the land, Camp Ipperwash continued to be used as a training facility for several decades, creating tension amongst the band and police and government officials, erupting in 1995 when protester Dudley George was shot and killed by an OPP officer during an occupation of Ipperwash Provincial Park.
"Began a long journey and been on it 'til this day," said Kettle and Stony Point Chief Tom Bressette.
The agreement, signed by Bressette, Minister of Indigenous and Northern Affairs Dr. Carolyn Bennett and Minister of National Defence Harjit Sajjan, was finalized in front of several hundred people at Hillside school. Ratified by a community vote last September, the deal returns former Camp Ipperwash to the band while delivering a payment of $95 million.
Sajjan said the agreement rights a long-standing wrong.
"I recognize that those years were painful," he said. "It is incomprehensible to serve your country in war and then to come back and find that land is taken."
Bennett used the term "unthinkable" when reflecting on soldiers returning from the Second World War to find their land expropriated and recognized that most of the affected original residents are no longer alive.
"We hope that this is a step to bringing closure to the efforts spanning nearly three-quarters of a century," Bennett said. "The money is important, $95 million, capital that can be invested in new opportunities, renewal and economic development, but it also sets out a process to remediate the Stony Point lands, returning them safely."
The sides still have to deal with a number of issues before the land can actually be returned. A cleanup process is required because of unexploded ordnance, and an environmental assessment is needed. An investigation is underway, Sajjan added, to find any explosives and deal with environmental issues.
"The report on these findings is due shortly," he said. "A cleanup and remediation of the lands will be conducted in a manner that is respectful to the Chippewas of Kettle and Stony Point."
Although the war-related expropriation and non-return caused band members to lose trust in the government, Bressette said the two sides are attempting to repair the relationship.
"We have a government that is really reaching out and trying to work with us," Bressette said. "This has been a long, arduous task and the council, we've worked hard, we've worked a long time."
Bressette also said it was unfortunate that George's death was required to bring national attention to the issue.
"That's a travesty," Bressette said. "We've endured a lot, but we must turn the page."
Bellegarde said Thursday's completion of the agreement was an "awesome day," which drew applause from the crowd in the school's gymnasium.
"Things are changing in Canada," Bellegarde continued, pointing to a renewed perspective on Indigenous land claims.
Bennett said she was honoured to be part of the signing and called it an historic settlement which marked a new beginning.
"We know in listening to the elders, the taking of the Stony Point reserve had a tremendous impact on community members that continues to this day," she said.
An 83-year-old elder approached the microphone during an open session and, while pointing out she was eight years old when the land was initially taken, said she was thankful to see it finally returned.
Another elder called it "a beautiful day" and highlighted the struggle has always been about the land and not the money.
But of that money, $20 million will be paid as compensation to families and ancestors, while the rest will be invested by trustees for economic development. Proposed plans have included a three-storey hotel and conference centre.
Although some band members have reportedly opposed the agreement – Dudley George's brother, Pierre, was engulfed in flames during a protest of the Going Home Walk last September – there were no visible protesters outside the school 30 minutes prior to Thursday's ceremony and no demonstrations took place during the event.
At least three members of the Anishinabek Police Services were present.
— With files from Postmedia Network
@ObserverTerry
Source: Historic Ipperwash settlement signed | The London Free Press