Canada's Waterscapes Exhibit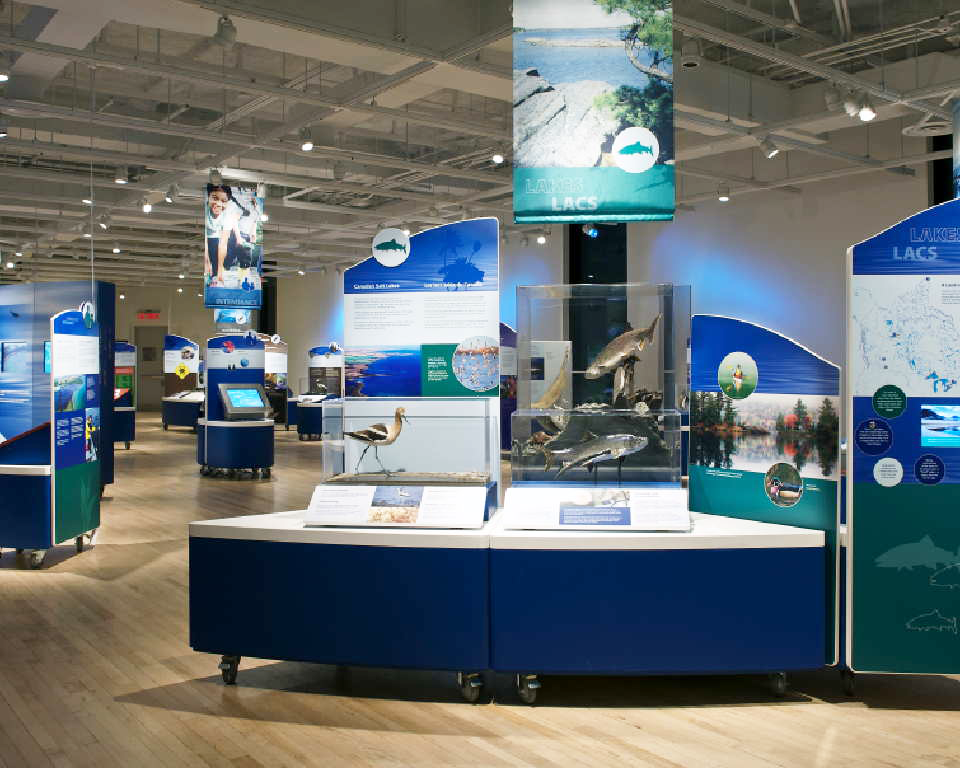 Canada's Waterscapes is produced by the Canadian Museum of Nature in collaboration with the National Sciences and Engineering Research Council.
This is a rare opportunity to see this interactive exhibition here in Lambton County. This travelling exhibit will be at the Lambton Heritage Museum for five months only, so don't miss your chance to experience it! You'll be able to dive in and find out what it takes to understand and take care of Canada's aquatic ecosystems. Visitors will get inspired to take action to protect our ecosystems. Join us to explore your aquatic side in this engaging, family-friendly, interactive exhibition.
Exhibit available May 1 – September 30, 2019

Museum Hours:
Monday-Friday 10:00 am – 5:00 pm
Saturday-Sunday 11:00 am – 5:00 pm
As part of the Canada's Waterscapes exhibition, Lambton Heritage Museum will be hosting a Speaker Series:
The St. Clair River Area of Concern: A look at how far we've come
Wednesday, May 8 – 5:30 – 6:30 pm
Presented by: St. Clair Region Conservation Authority
Why did the Turtle Cross the Road? An introduction to Ontario's turtles and what you can do to help them
Thursday, May 23 – 2:00 – 3:00 pm
Presented by: Ausable Bayfield Conservation Authority
Great Lakes Need Great Watersheds
Wednesday, June 5 – 6:00 – 7:00 pm
Presented by: Ausable Bayfield Conservation Authority
Discovering Great Lakes Shipwrecks
Saturday, June 15 – 2:00 – 3:00 pm
Presented by: Sarnia Underwater Club
The Old Ausable Channel of Pinery Provincial Park: An ecological time capsule
Tuesday, June 18 – 6:00 – 7:00 pm
Presented by: Pinery Provincial Park
Feisty Fish and Mighty Mussels: An introduction to the globally rare, local aquatic species
Tuesday, July 9 – 2:00 – 3:00 pm
Presented by: Ausable Bayfield Conservation Authority
The St. Clair River: A heritage highway
Monday, July 15 7:00 – 8:00 pm
Presented by: Moore Museum
Tree-mendously Important: The 5000 trees project
Tuesday, July 30 – 6:00 – 7:00 pm
Presented by: Lakeshore Eco-Network
Shipwreck Tales of Georgian Bay
Tuesday, August 6 – 2:00 – 3:00 pm
Presented by: Seawolf Communications
Sombra Township: A tale of two rivers
Saturday, August 17 – 3:00 – 4:00 pm
Presented by: Sombra Museum
The Legacy of Water Walker Josephine Mandamin
Tuesday, August 27 – 2:00 – 3:00 pm
Invasive Phragmites australis: Why do we need to be concerned
Saturday, September 7 – 2:00 – 3:00 pm
Presented by: Lambton Shores Phragmites Community Group
Keeping a Great Lake "Great": Beach and dune conservation on Lake Huron
Monday, September 30 – 6:00 – 7:00 pm
Presented by: Lake Huron Centre for Coastal Conservation
Regular Admission
Adult – $5.00
Senior/Student – $4.00
Children ages 5-12 – $3.00
Family – $15.00
For more information, please visit The Lambton Museum website: https://www.lambtonmuseums.ca/events/canadas-waterscapes-2/