2015 Mayor's Breakfast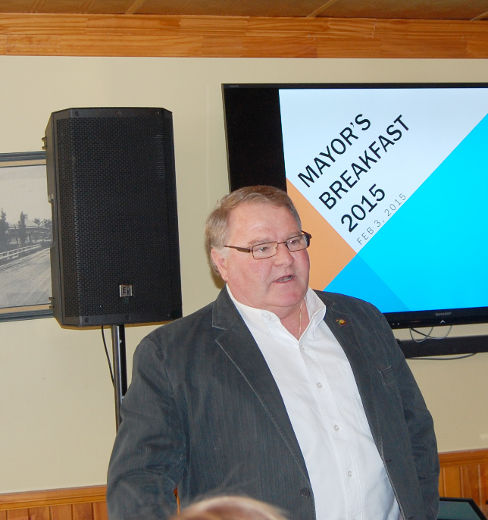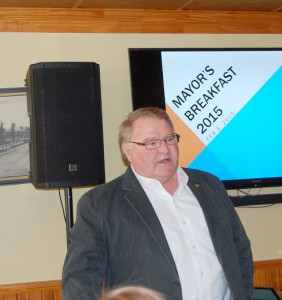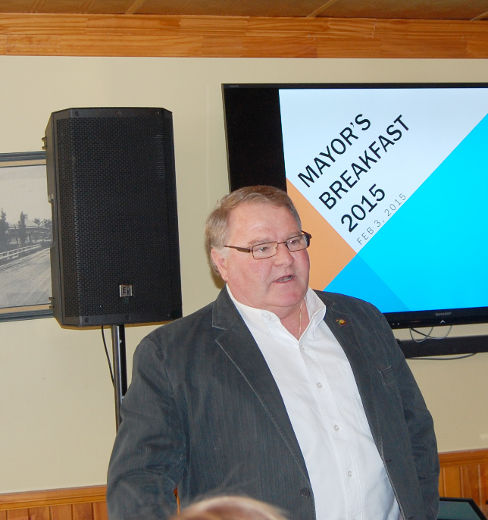 Mayor represents full gambit of the political spread at annual breakfast
Ellison Travel and Tours was the sponsor of the event held this year at the Colonial hotel. Weber and deputy mayor Doug Cook updated the breakfast group what was happening in the municipality since the election.
Weber began by saying the controversial sewer plant is in construction mode and with the new growth in the communities, the future looks positive. He explained the Rice Group and Paul Pitteo's development are both good things happening. In regards to the short term rental issues of the past are diminishing as landlords are being educated. He cited the number of calls for 2014 were down to 995 from the 1343 in 2010. "This is a significant improvement," he said. Continuing with summer concerns he said their by-law is going in a different direction with a ambassador program, a more welcoming approach to tourists where they will have maps and being more helpful. "We are still working with the Chamber of Commerce summit report on parking and there are dollars in the budget for a design for engineering for River Road and with plans in place they are now in a position to go after funding. He also said the Highway 21 (Grand Bend) bridge has approached its shelf life and this is something they hope the province will help fund once they get the engineering and design. Weber went back to an idea of a scramble at the Main Street-Highway 21 intersection and it has been suggested they try this for a couple of weeks to see if it works. He talked about the Grand Bend and Port Franks harbours saying they will not have to deal with low water this year, "thanks to Mother Nature". "Canada is on sale this summer, a 30% sale and we should be busy for the influx of American tourists in every aspect from real estate to event experience. We need to take advantage of that and possibly more Canadians will enjoy more 'staycations'. Let's be ready. As a council we will continue to work for this goal."
Cook said it was his job to help the mayor run the municipality and they were working towards a Strategic Plan, an Official Plan and some very passionate council members who all care about Lambton Shores. He said economic development is back on the front burner and hope the business sector get involved in a grass roots initiative.
Jim Dekker from Ipperwash asked the mayor about the barriers that were removed from Centre Ipperwash Beach. He asked for an update and if the barriers were going back up. Weber explained the various groups were working towards a common goal and that the by-law that was proposed to be passed to keep vehicles off the beach is in the hands of the municipal lawyer to make sure it can be enforced before passing it. He said there are many 'rights' to be considered and they needed to find out whose rights "trumps the other." He said they are working through the process and the current ice and snow on the lake has resolved the immediate problem but has given a May 1 deadline to deal with the environment and safety concerns with a common goal of economic development for both Kettle Stony Point and Lambton Shores. He said the OPP are protecting the peace. "If this is not resolved by May 1st there could be a conflict," stated Dekker. "We are doing what we can on our road allowance," said Weber adding the federal government should be involved to help resolve this issue." Dekker thanked the mayor for everything they are doing.
Denny's owner Valerie Boland told the mayor the scramble idea is 'marvelous' but into her sixth season on Highway 21, the traffic was an issue and in her opinion that centre line needed to be removed. She said she realized there would be a cost, but now was the time to do it. She explained not only her business, Peckitts, and every business on Highway 21 including the grocery store, the restaurants, gift stores and hardware are affected by the traffic issues. Weber explained the Ministry has to give approval for any work on the highway and the centre line was a requirement when the traffic light was installed on Lake Road.
Peter Coleman suggested the OPP show some goodwill and on long weekends they could direct traffic to help make the flow easier. John Fraser, representing Lambton Kent Middlesex MPP Monte McNaughton explained the MPP has been busy with his bid for leadership and has not been in the riding as much as he would have liked to be. said he would take back the concerns regarding Highway 21 and Ipperwash to McNaughton. Cam Taylor asked about the "out of control costs" of policing and Weber explained policing costs were reduced by $300,000 this year.
Marlene Wood, General Manager, Tourism Sarnia-Lambton (TSL) updated the group on what was happening in the county. Cam Taylor asked what they (TSL) were doing to get the 416-905 area code people (Greater Toronto area) to come this way. Wood said this was on their radar and are working towards bringing those vacation people this way. Weber asked with the US dollar so strong, asked how that will effect this area and was TSL shifting their marketing strategies. Wood said they were, with a heavy concentration on making the Canadian experience something the American traveller will desire.
via the Lakeshore Advance