Beach use and barriers in the hands of Barristers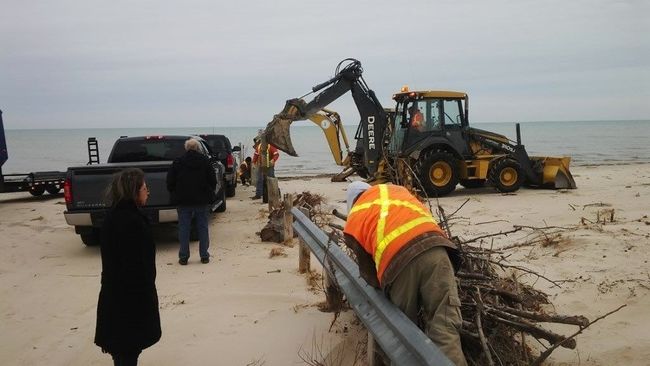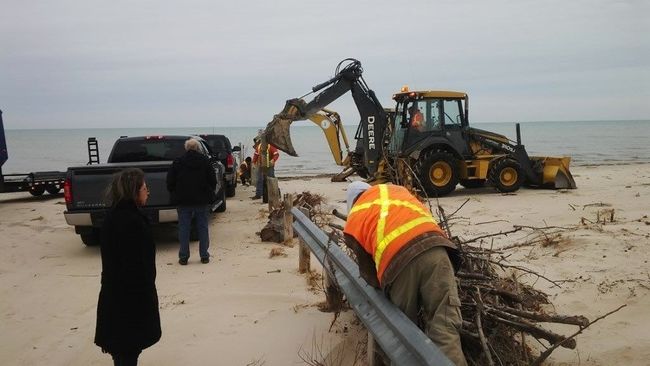 "Since the early 1970's motorized vehicle use by the general public has been limited on the section of Ipperwash Beach between Army Camp Road and West Ipperwash Road," explained CAO Kevin Williams in the report.
"Claiming the right to do so, in December 2014 the Kettle and Stony Point First Nation removed barriers adjacent to the West Ipperwash, Ipperwash, and Army Camp Road allowances.  Without the barriers in place, vehicles are no longer physically prevented from accessing the beach between the road allowances."
"This action triggered concern from the municipality and the area residents, and precipitated the immediate involvement of the Ontario Provincial Police, the Ontario Ministry of Natural Resources and the Ontario Ministry of Aboriginal Affairs.  Investigations are ongoing by all these agencies."
At its meeting of December 18, 2014, Council received a report on the Ipperwash Beach situation and passed a resolution stating that with the intention of finding a respectful and lawful solution to the disputed matter of vehicle access to the Ipperwash beaches between West Ipperwash Road and Army Camp Road.
Williams said,"There are a number of "uses" currently in practice on the beach, although not all uses are in evidence, or desired, in all places.  These typically include walking, swimming, picnicking, parking, and boat launching.  Any action taken to limit or change an existing use, no matter what it is, will need to be well considered.  If Council considers a direct involvement in the regulation of beach uses, it must be aware that it is subject to a hierarchy of legislation imposed by higher levels of government."
He went on to say, "Accordingly, and prior to public discourse on matters that may be beyond municipal jurisdiction, Council is advised to seek specific legal advice that relates to its own rights and obligations." Legal advice is being recommended to council before it advances any direct action.  Williams stated there are a number of legislative and jurisdictional issues that need to be considered in addressing the concerns, "Most notably the need to understand who has what rights and entitlements.  "The Provincial Government, through the Ministry of Aboriginal Affairs, has taken the lead position in reviewing these matters.  This review is underway at this time."
Williams explained the report was been provided to advise Council and the public that research and dialogue is continuing through the venue chaired by the Ontario Ministry of Aboriginal Affairs.  "The municipal representatives in attendance remain optimistic that the Province will provide a public explanation of its obligations to any claim process and establish the Crown's own position relative to beach use and protection.  Through resolution, Council has requested two specific legal actions be considered.  Before further consideration of these actions, Council will be provided with an opportunity to discuss its options with legal counsel and weigh them against the actions and decisions of others."
via the Lakeshore Advance