Spring Update
With the warmer weather starting to be more to our liking it won't be long until we are enjoying the summer again.  It has been a busy winter season for your CICA executives who have been tasked with some important issues from our membership.  Since the election in August, your new executive members have been welcomed to the board and brought up to speed of current and new issues.  CICA executive members have been very busy so let's get caught up.
Arising from our last Annual General Meeting (AGM), a committee was created to review and make recommendations to update our constitution. These recommendations should reflect more current CICA needs and properly allow the executive to effectively perform their duties.  This committee's dedication to researching then debating specific articles of our current constitution, has brought forth an excellent list of recommendations.  This document is now available for members to review and be prepared to vote on at our next AGM this summer.  Please review these changes and when possible engage and thank our constitution committee. Sandra Marshall, Mark Rupke, Klaus Mueller and committee chair John Arnold are to be commended for their excellent work. [Read the proposed changes here]
Ipperwash property values were a concern with members and occupied many hours of the executive members' time during the fall months. It was reported that 146 local property owners filed "Requests for Reconsideration" (RFR) through MPAC. Several property owners received ad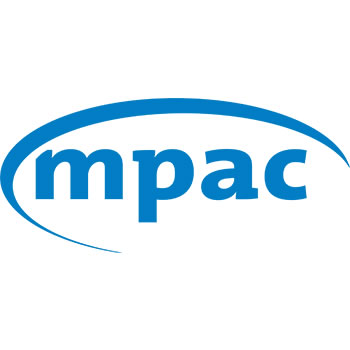 justments as a result of incorrect structures or property descriptions in their assessment. A few owners further followed up with appeals with varied results and some are still outstanding.  MPAC and CICA have been in regular contact to discuss the unique uncertainty in our community and its affect on Ipperwash property values.  MPAC personnel have been very helpful and transparent with the assessment processes to assist those with specific concerns and questions.  MPAC is truly attempting to ensure the assessments for the upcoming years are absolutely accurate as possible.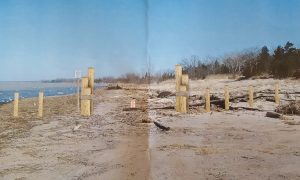 A key concern for CICA members and our community has been vehicle traffic at the waters edge in Centre Ipperwash. This has been an overall focus of much of the ongoing CICA work. Your executive has been monitoring municipal council sessions and following up with officials and staff as needed. The environment and safety of those enjoying Ipperwash is a priority but this should be done without undue impact to property owners.  Executive members have met with the CAO of both Lambton Shores and Chippewas of Kettle and Stony Point to foster good working relationships.  These meetings have allowed for positive discussion of local matters and now provide hope for negotiated resolutions when perspectives differ.  Also as a result of these meetings, the replacement of vehicle impediments at the road allowances has been agreed to by all parties and should be installed very soon.  The new installations are more in keeping with a nautical theme and less industrial, making them more aesthetical.
The Ministry of Natural Resources and Forestry (MNRF) is currently undergoing a review of their land use policy for the various parcels of land in our community.  The MNRF has explained that proper care and maintenance for these lots has been traditionally done by the local Provincial Parks. Unfortunately due to operational limitations this has not been completed to an acceptable standard and is being addressed. CICA along with other landowner representatives, stakeholders and partners were invited to participate in a recent Ipperwash Crown Land Focus Group Meeting. During this meeting the MNRF planning team was interested in gaining local knowledge of these lands and what is important in their management.  This facilitated session, allowed for discussions and opportunities to contribute knowledge and perspective of the Ipperwash Public lands. This is just the first step in a long process to review the land use policy.  CICA will keep you up to date of any new information about this process as it becomes available.
What makes Ipperwash so special is not only the great vistas and the unique geography but the people who live and visit here.  Year round or seasonal residents who call Ipperwash home truly care about our community and it shows in so many ways.  To help bring this to light, many CICA members have come to together to create several committees to help promote, focus and celebrate the people of Ipperwash.  Our secretary, Verena Mueller proposed and volunteered to chair our new "Building Stronger Community" committee.  This committee has been well supported with many from our community participating in meetings and discussions to improve our community.  From a recent meeting, it was brought forth that survey of our members should be conducted to improve participation of our AGM.  Would the AGM be better attended if moved to a more agreeable date and/or time?  Please take a moment to complete this survey and let us know if the AGM can be improved.  We are looking forward to working with our new committee and enthusiastic to see your participation to better our community.

The new Building Bridges Committee has dedicated to work mindfully to improve or re-establish communications with other local organizations and groups.  Executive Member at Large, John Arnold has volunteered to chair this committee and they have realized already some real success opening and improving communications for CICA.
I have had the pleasure to help organize our new social committee who have been tasked with creating a few events to help bring the community together to enjoy fellowship and discover new friends or new activities within our community.  The social committee has set-up the following events:
Open House – June 4, 2016 (1-4PM) Please join us for an afternoon drop-in session to meet some of our local organizations, including those who protect and enhance our community. This is a great chance to meet your new executive, talk with scientists studying in the area, and gather information on all sorts of local topics.  Here is a sampling of the different organizations attending:
Lambton Shores Nature Trail
Lambton Shores Phragmites Community Group
Municipality of Lambton Shores
Ministry of Natural Resources and Forestry
University of Western Ontario
Waterloo University
Communities in Bloom
St Clair Conservation Authority
PointSAR Marine Rescue – Canadian Coast Guard Auxiliary Unit 512
Nature Conservatory of Canada
Ipperwash Optimists
Lambton Health Unit
Port Franks Fire Department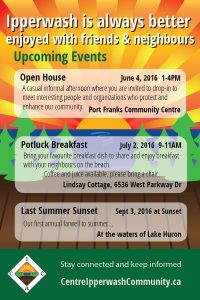 Potluck Breakfast – July 2, 2016 (9-11AM) 6536 West Parkway Drive (Lindsay Cottage) Bring your favourite breakfast dish to share and enjoy a morning meal with your neighbours on the beach. Coffee and juice available but please bring a chair.
Last Summer Sunset – Sept 3, 2016 at the waters edge at sunset. Our first annual farewell to summer…
Through your support and participation, these new committees will be successful in building up our community with strong connections and enhance this great place we call Ipperwash.
It has been a busy winter with many very productive and encouraging activities. Thanks to those volunteering to assist CICA and enhancing our Ipperwash community.  I hope to see you at the various upcoming events or around and about Ipperwash.  Please make sure to say hi.
Respectfully,
Brent Shea
CICA President