Pinery Update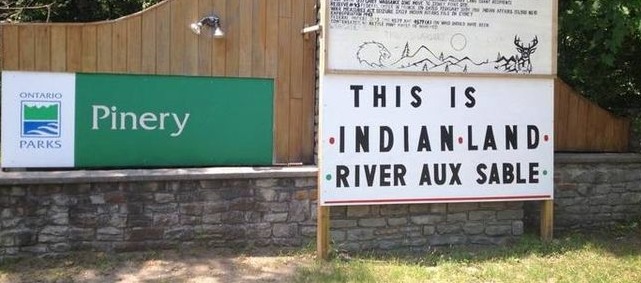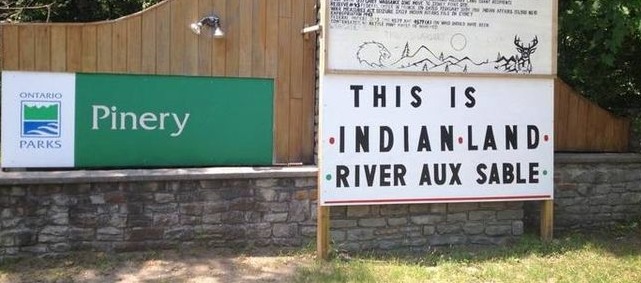 Pinery Provincial Park still closed amid Indigenous pair's 'occupation' threat
SARNIA  – Pinery Provincial Park remained closed Thursday, a week after officials there shut the gates after a duo that says the land belongs to their families declared plans to occupy it.
"There has not been a decision made to reopen the park," Maimoona Dinani, spokesperson for the Ontario Ministry of Natural Resources and Forestry, said Thursday. "This is being monitored on a day-to-day basis."
Maynard T. George and Hubert George, who live at Kettle and Stony Point First Nation near the park in the Municipality of Lambton Shores, said the Pinery is part of a large tract of land once held by their ancestor, Grand Chief Wabgance, that was never properly surrendered.
A trailer was moved to the park last week, as in October 2014 when a similar incident happened at the Pinery. Maynard T. George said in 2014 they were seeking to repossess the park as part of an effort to reclaim 20,234 hectares (50,000 acres) of land stretching from Bayfield to near Sarnia, saying it belongs to his great-grandfather's descendants.
He said Thursday they're seeking to have the land returned, as well as a financial settlement.
"We've put in a position where we've got no choice but to go forward and take back our land," Maynard T. George said.
The park is closed to the public for camping and day use, the ministry said.
"Our goal has remained ensuring the safety for the public," Dinani said. "We have had numerous discussions with the individuals to better understand their reasons and we are continuing these discussions in an effort to resolve the matter."
Monte McNaughton, MPP for Lambton-Kent-Middlesex, said he has spoken recently to both the national resources and forestry minister and the Indigenous affairs minister about the issue.
"I was blunt," McNaughton said. "I said, 'open the park and ensure the rule of law is followed.'"
McNaughton said campers who were in the park when it was closed last week had to leave, adding he understands school trips to the Pinery have been cancelled.
"I want to be crystal clear that the people of Lambton Shores and Ontario should not be held ransom because one individual isn't following the rules," he said.
In 2014, then-Ontario attorney general Michael Bryant told the Legislature that George's claim was "an individual grievance" and not a land claim.
Bryant noted the First Nation in the area, Kettle and Stony Point First Nation, had said they didn't endorse the grievance and that they have no land claim at Pinery.
McNaughton said a trailer moved onto the park during the incident in 2014 is still there, along with the second trailer set there last week.
"The government has a role in this, and that is to ensure the park is opened as quickly as possible and the rule of law is being followed," he said.
Pinery Park is made up of 21 square kilometres of land on Lake Huron, near the former Ipperwash Provincial Park where an OPP sniper killed Dudley George in 1995 during a clash between police and First Nation protesters who had occupied the site.
Kettle and Stony Point's land claim for Ipperwash Park and the neighbouring former Camp Ipperwash army base was later settled.
Sarnia Observer with files from The Canadian Press
Source: Pinery Provincial Park still closed amid Indigenous pair's 'occupation' threat | Sarnia Observer