Local conservation award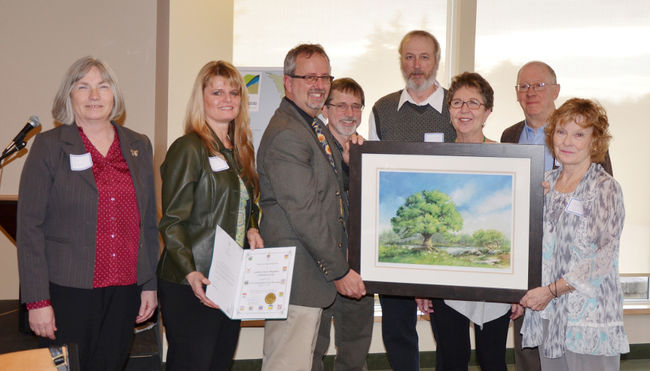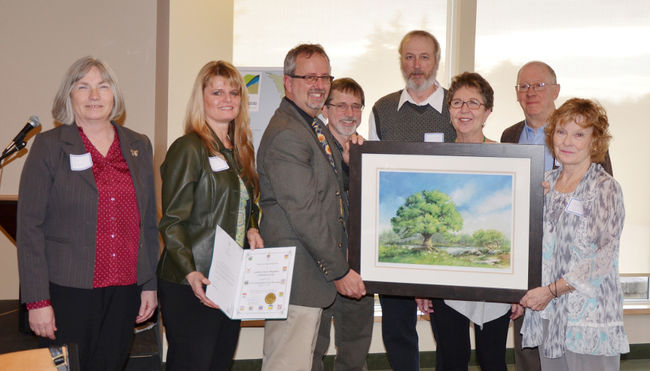 The Conservationist of the Year Award prize includes a limited-edition conservation print of the Latornell Tree, by Bonna Rouse, one of 310 made for a special edition by Conservation Ontario. Ausable Bayfield Conservation will also make a donation towards a tree and plaque at a Commemorative Woods site in the watershed. Shown in photo, from left to right, are Kate Monk, Manager of Stewardship, Land and Education, Ausable Bayfield Conservation Authority (ABCA); Michelle Hay; Brian Horner, General Manager and Secretary-Treasurer, ABCA; Ray Horban; Derek Scott; Nette Pachlarz; Paul Petersen; and Nancy Vidler, LSPCG Chair. Absent from photo is Bill MacDonald.
Story: And the Ausable Bayfield Conservation Authority award goes to the Lambton Shores Phragmites Community Group.
An enthusiastic, dedicated group of citizens in the Port Franks area formed the Lambton Shores Phragmites Community Group (LSPCG) in 2011. The need for this group was to address the invasion and spread of Phragmites australis (European Common Reed) in Lambton Shores.
Phragmites has a serious impact on shorelines, coastal wetlands, and rivers. It affects water quality, wildlife habitat (including species-at-risk turtle populations), recreation, and public safety.
The municipality and Ausable Bayfield Conservation recognize the Lambton Shores Phragmites Community Group as the coordinating body for Phragmites control in the municipality.
The LSPCG has been successful in greatly reducing the Phragmites population in Port Franks and is making progress in other parts of the municipality.
Group membership has increased to include residents from other parts of Lambton Shores. They have partnered to raise more than $100,000 to fight Phragmites. The group has done excellent community engagement, ranging from successful public meetings, media coverage, and to door-to-door education and engagement.
Group members have been involved in all aspects: project management, communications, and on-the ground removal of Phragmites and monitoring.
The LSPCG has been working for more than five years to control Phragmites in their community but their influence has extended across the province. They have engaged the municipality, provincial government, and Ontario Federation of Agriculture. The LSPCG achievements are recognized provincially and they have helped other communities start Phragmites control programs. They are active members of the Ontario Phragmites Working Group.
The wetlands have been identified as Areas of Natural and Scientific Interest (ANSI). As a result of the extensive efforts of LSPCG, Phragmites populations have been reduced, native flora and fauna are returning, citizens and the municipality are engaged, and collaboration among agencies organizations has increased.
The group was successful in receiving funding from the Grand Bend Community
Foundation, in 2015, to address
Phragmites upstream of Port Franks and Grand Bend. This included three components:
The creation of the first-ever two-page fact sheet for controlling Phragmites in agricultural areas. It was distributed to rural landowners in the watersheds upstream of Port Franks and Grand Bend. The fact sheet is being distributed throughout the province through the Ontario Invasive Plant Council.
The group also completed a roadside Phragmites survey in Lambton Shores and North Middlesex.
The group held two information sessions in the summer in Thedford and Grand Bend for agricultural and rural landowners.
The group also continues to monitor Phragmites, do follow-up control and dialogue with their neighbours.