Ipperwash cottagers remain optimistic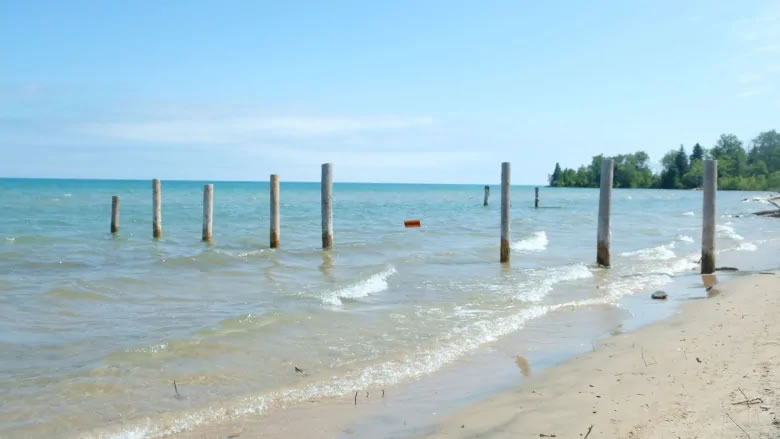 You may have noticed high tides at some of your favourite southwestern Ontario beaches this summer.
That's because lake levels in many of the Great Lakes are the highest they've ever been, according to Environment Canada.
Lake Huron, for example, reached a record high earlier this month when water levels rose 79 centimetres above average. Lake Erie's waters rose 83 centimetres above average.
According to Environment Canada, heavy rain is mainly to blame, among other factors including climate change and natural water cycles.

Have you noticed high tides at some of your favourite area beaches? Well, it's because water levels in many of the Great Lakes are the highest they've ever been – Lake Huron included.Here's what some cottagers and beachgoers had to say about Ipperwash Beach.

Posted by CBC London on Thursday, 11 July 2019
It's resulted in coastal erosion and washed away beaches in many areas including Ipperwash Beach along Lake Huron.
Some cottagers there say the conditions are bringing new challenges. However, they're encouraging the public to come out and enjoy what's left of summer.
Impacts of high waters
Al Hannahson has lived in his four-season cottage for about 15 years now. He's been vacationing in the area his whole life, he said.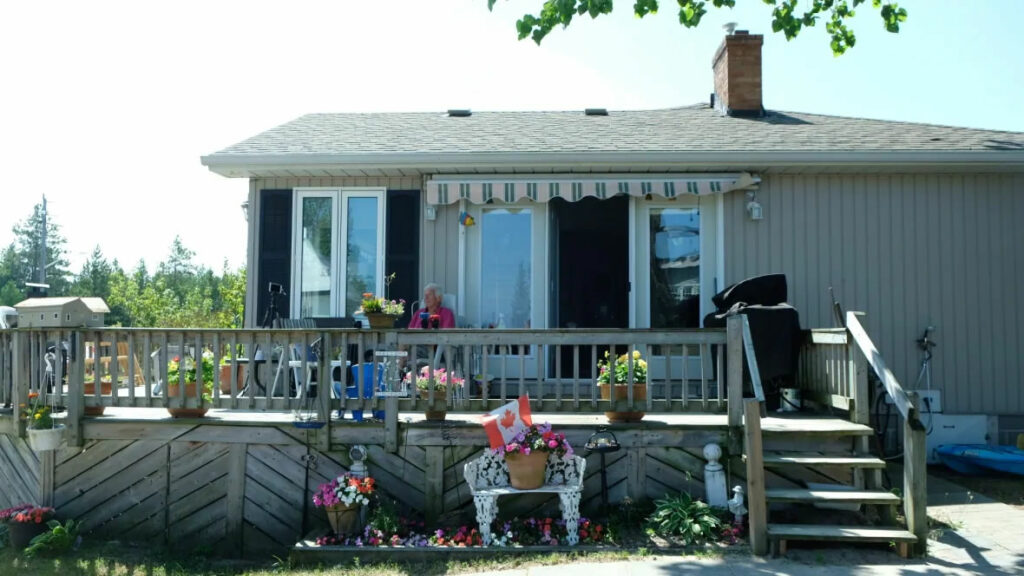 "There was always lots of beach but just recently the water has been rising yearly," he said. "We've had a beach before that was 100 or 150 feet wide. Now, the beach is 15 feet wide."
He said the lack of space has resulted in fewer people coming out to the beach.
Last year on a busy Sunday, the beach would attract up to 400 people. Today, that number has dropped to about 30.
Brenda Crump, who owns a cottage overlooking the water, said the sand dunes have been sucked back into the lake.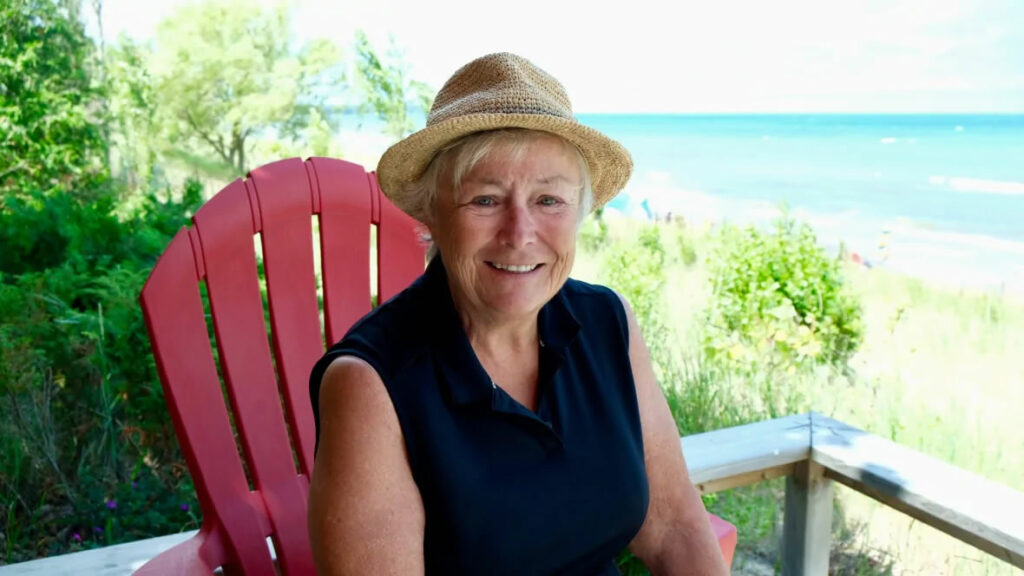 "I think there may be some property owners who are somewhat worried if it keeps on closing in," she said.
'Come and see us'
The high water levels shouldn't stop people from coming out to the beach, urged the cottagers.
Lydia Bloomfield, whose family owns a trailer nearby, said her spirits are high, just like the water levels.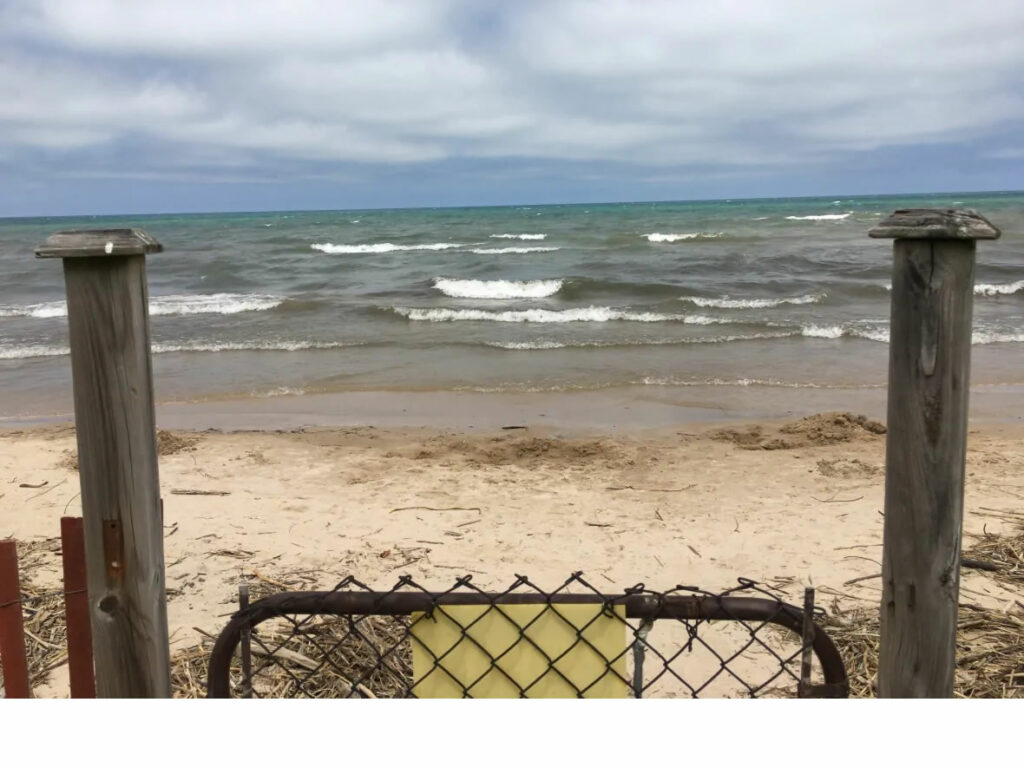 "I don't care," she said. "I'd still come down and find somewhere to sit. I love the beach… when you're down here, it just calms you, you forget about the hustle and bustle of work and everything."
"If it's a hot stinky day, come," encouraged Crump.
"It's very narrow so people are piling onto each other … But, everyone is getting along really well. Everybody is still having a great time and enjoying themselves," she said.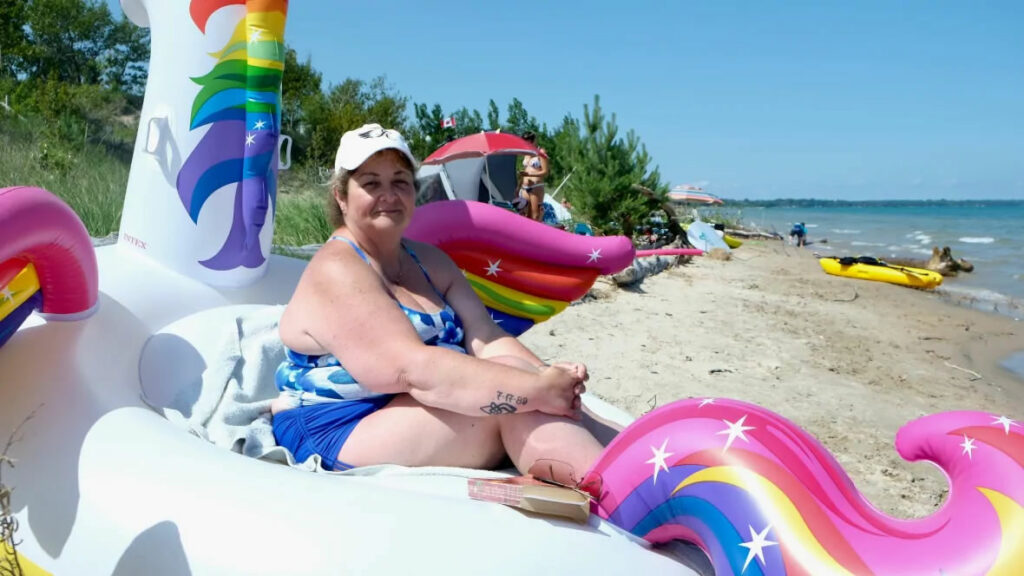 "The water will go back down … the lakes rise and fall," said Hannahson.
"We will get out beach back. So, don't forget about us. Come and see us," he said.
Have a listen:
Water levels in many of the great lakes are the highest they've ever been. CBC reporter Hala Ghonaim spoke with residents and cottagers in Ipperwash to find out how they're coping with the rising water. . 4:36
Source: Ipperwash cottagers remain optimistic despite high waters and washed away beaches | CBC.ca