History of Phragmites australis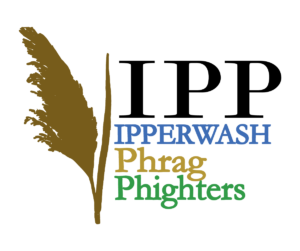 History of Phragmites australis
Are native to Eurasia.
Have been present in North America for at least 300 years.
Probably introduced accidentally to North America in ballast material sometime during the late 1700s or early 1800s.
First observed in Ontario along the St. Lawrence River in 1916.
Later found at Walpole Island in Lake St. Clair in 1948.
Rapid expansion occurred during the 1990's.
Reasons for dramatic increases could be due to:

Habitat disturbances,
Improper removal of dead Phragmites plant material,
Stresses such as pollution,
Increased wetland salinity from road de-icing salts,
Contamination from equipment travelling from site to site,
Changes in local water systems and seasonal temperatures.

This robust grass is now established in most Lake Erie and Lake Huron wetlands.
It is getting a foot hold in Lake Superior coastal habitats.
It wasn't until 2005, that Agriculture and Agri-food Canada identified invasive Phragmites as the nation's "worst" invasive plant.
Sources:
Ontario Phragmites Working Group:  www.opwg.ca