Black bear sighting in Lambton County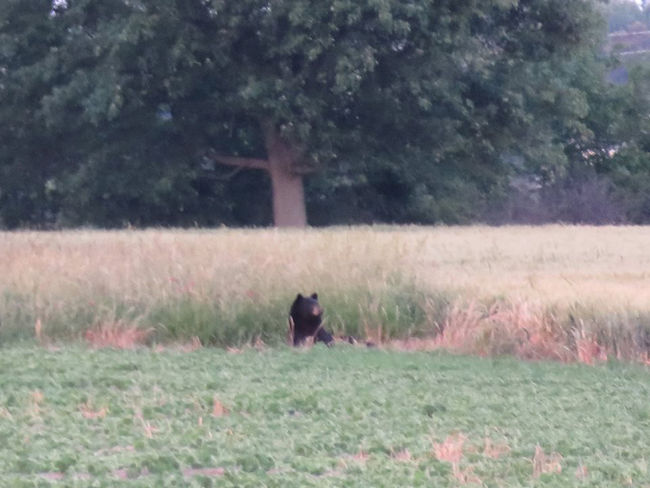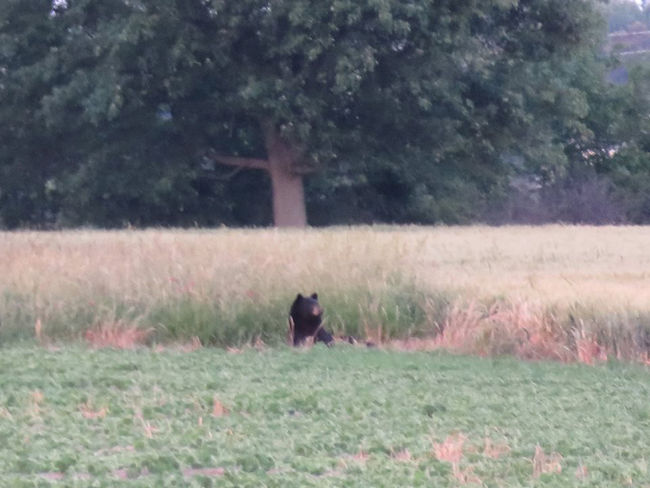 When her daughter said she saw a black bear not far from the family farm in Enniskillen Township, Kim Racher was skeptical.
It happened at approximately 7 p.m. Wednesday, as her 23-year-old daughter, Jena Racher, was heading to Petrolia with a friend and stopped for a look after spotting what she first thought was a large dog in bean field on Marthaville Sideroad, between Rokeby and Shiloh lines.
Racher said her daughter's cell phone was broken so she came quickly to the farm, just around the corner on Shiloh Line, to let everyone else know.
"I didn't believe them at all," Racher said.
"She said, 'Mom, we saw a bear.' And I said, 'Ya, right.'"
But, Racher and her son, Jesse, went with Jena and her friend back to the field and saw it for themselves.
"We were all stunned," Racher said.
"We stood there for about an hour just watching it, because we couldn't believe it."
They even called a neighbour and said, "Can you guys come right away, because somebody's got to see this."
Another neighbour also stopped to watch, and they took photos of the bear with their cellphones.
"We weren't scared because there was a ditch between us," and the bear stayed near the back of the field, Racher said.
"It didn't attempt to come any where close to us."
When one of the neighbours honked the horn on his truck, the bear "would sit up and look at us, but he didn't make any attempt to come any closer."
That was also the case when her son walked into the field.
Racher said her son guessed the bear weighed 350 to 400 pounds.
Earlier this month, Lambton OPP reported a black bear had been spotted in a backyard on Cedarview Drive in Lambton Shores.
According to the Ontario Ministry of Natural Resources and Forestry website, black bears live throughout most of Ontario, and primarily inhabit forested areas where they are best able to find food, refuge and den sites.
When they are not hibernating, bears spend most of their time looking for food, according to the website.
Racher said they stayed at the side of the road watching the bear until it began to get dark. At that point, the bear began wander to a wooden area.
Later, Racher posted the sighting on Facebook.
"There's all kinds of responses and shares," she said.
Racher said she has heard from another neighbour that a bear was spotted in the same location a couple of years ago.
Racher said they've farmed on Shiloh Line for 20 years and have seen deer, raccoons and foxes, but it's the first time she has seen a bear in the neighbourhood.
"It worries me because I think nothing of walking back to the bush in our field every night with our little dog," she said.
"It makes me really think twice."
Source: A second black bear sighting reported in Lambton County | Sarnia Observer