Beach road endangers children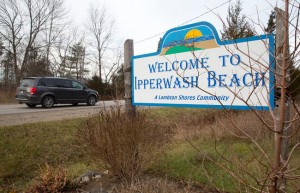 Letter to the editor of the London Free Press

I have lived every summer of my life at Ipperwash Beach, at a family cabin located between Kettle Point and Stoney Point, also known as Camp Ipperwash and the Ipperwash Provincial Park. The beach is alive every summer, with families of all nationalities, including First Nations. These families often include infants and toddlers. They run around the sand and the water's edge, digging large holes and run in and out of the water without looking both ways to see who is coming. It is not rare while walking on the beach to be "trampled" by a group of pre-schoolers taking water from the lake to their sand castle.
We can not allow our beach to become a road, subject to the rules and dangers of vehicle traffic. We do not allow families to "camp out" for the day on our streets, roads or highways due to the danger.
The barricades to prevent vehicle traffic being taken down between the Kettle Point and Stoney Point First Nations is opening our beach to erosion and pollution. And it is taking away the freedom of it's local citizens to enjoy one of Canada's finest beaches.
Kathryn Dorey
Almonte